Next Gig 7 July 2017: Donna Dean and Brent Parlane
Real pleased to welcome Brent Parlane (ex Melbourne and currently on a world tour) to our concert series and to bring Donna Dean (Tui winner) back to our stage. Donna was one of our first concert performers for VillageMusic and what a great night that was. Following that performance, Donna has won a Tui, been the subject of a documentary, played Nashville and released a whole lot of new material. Brent Parlane is one of our great musical exports. Many of us will recall his famous days in the New Zealand country music scene. Brent plays regularly around Australia and has maintained a steady output of original music to a loyal fan base. Donna and Brent have performed together in Melbourne and for this show will be joined with a couple of guest musicians for backing on bass and guitars.
This will be a very special evening. As always, bring friends, bring family, bring your ears and BYO.
---
Previous Gig 7 Apr 2017: Wayne Gillespie
Previous Gig 17 Feb 2017: The Company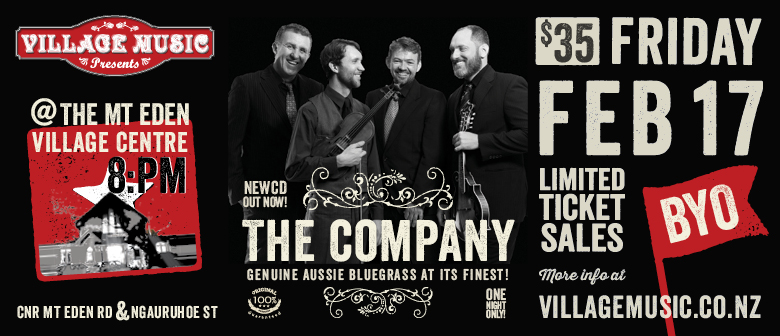 ---
Previous Gig Sep 2016: The Wonderfish Collection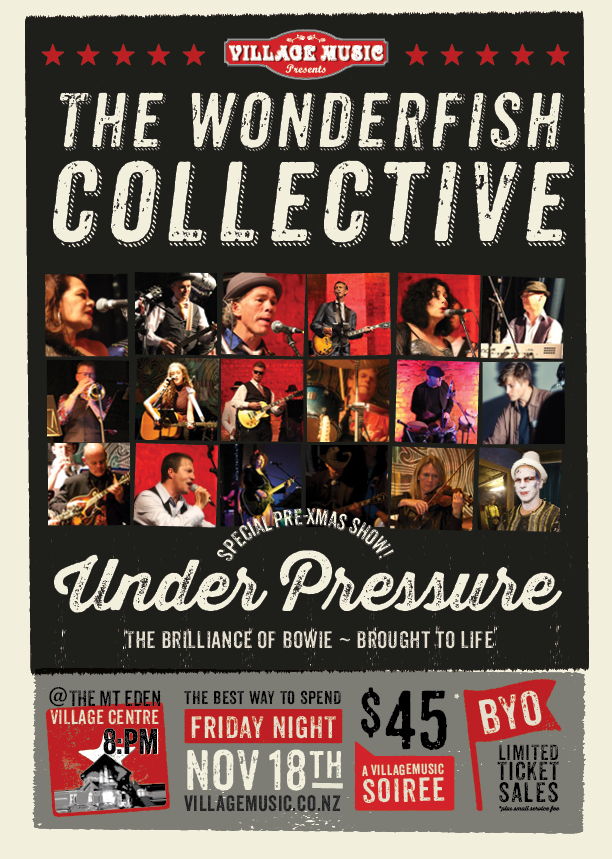 The Wonderfish Collective have a great line-up of real talent on board. They're great to listen to and they're great fun with it. 
That's what Village Music is all about - Great live music, plenty of conviviality and an opportunity to really relax and have a good 'listen', up close with the musicians who are making the music.
This was a special pre-Christmas concert event for Village Music, following a couple of sold out nights on the North Shore.
In keeping with the ethos of these guys, they were once again raising funds for a good cause - this time, on North Head, where there is a need for rescue equipment.
---
Previous Gig Sep 2016: The Narcs
And now for something completely different… In keeping with all that is eclectic, VillageMusic presents the NARCS - A Village Gig.
From the golden age of the 80's these guys have never let it slip. Rikki Morris joins us on the Village Music stage for the first time (having worked the levers for a few of our past soirées, it's great to see him in the line-up for this one) and none other than Pete Warren is sitting in the middle seat for this session - now we really are cooking. Doesn't matter how cold this winter gets - the Narcs know how to turn up the heat… ;-)
This was a great night - there was even be dancing - of course!
---
Previous Gig July 2016: Lou'ana Whitney
In keeping with our Village Music passion for stunning female vocalists, we are delighted to bring Lou'ana Whitney and her band to the The Mt Eden Village Centre.
Lou'ana has been steadily forging a reputation as a great talent for the past few years in various soul/funk/jazz bands and musical collectives around Auckland.
Lou'ana brings a vocal style and a gorgeous delivery that oozes with great feel and character, add to that the musical skills of Dillon Riesterer, Cam Sangster, et al and this promises to be a really delightful evening.
Lou'ana and the band are already rehearsing for it!
Can't think of a better venue than the old hall for these guys - and a Village Music Soiré is the perfect way to enjoy it.
Expecting numbers to be quite high, so get tickets sooner rather than later.
---
Previous Gig June 2016: Derek Lind
Our 2nd Soirée for our Winter Series featured the very accomplished performer and songwriter DEREK LIND, accompanied by:
APRA Silver Scroll winner Guy Wishart (guitar and banjo),
Alan Brown (Hammond A100),
Andrew Horst (Bass),
Kevin Adair (Drums) and
Glenn Ross Campbell (Weissenborn Lap-slide).
Most recently heard on Radio New Zealand a few weeks ago, Lind has played at major arts and music festivals both overseas and in NZ. He has supported international acts such as Sam Philips, Michelle Shocked, and the Hot House Flowers.
His music is in the tradition of the singer-songwriter, drawing its influences from blues, country and rock music. Influences include Dylan, Neil Young, T-Bone Burnette, John Prine, Springsteen, Elvis Costello, Richard Thompson, Peter Case, John Hiatt & Van Morrison.
This was be a concert that will linger in the memories - there aren't too many opportunities to have a really good listen to these guys live - and we're thankful to have welcomed them to our family.