Next Gig 7 June 2019: KATIE MATUCCI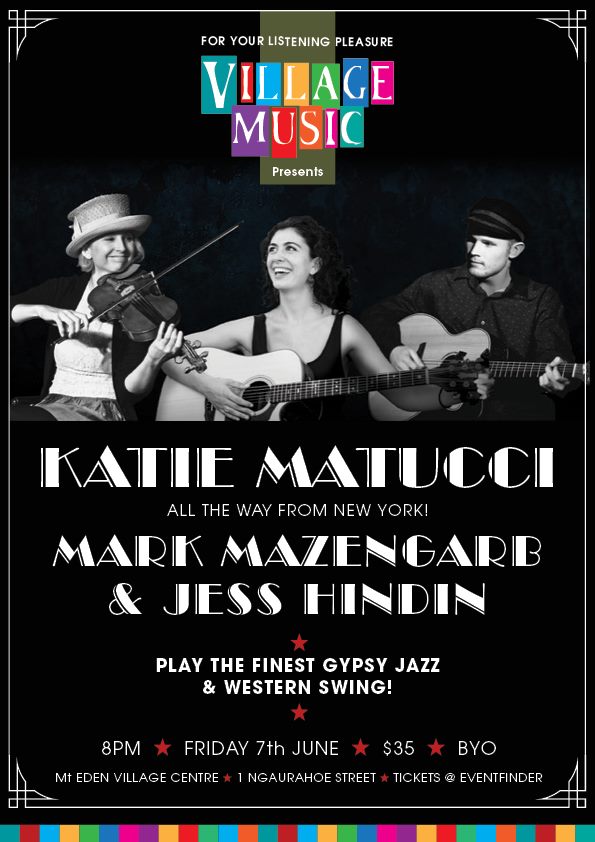 All the way from New York, don't miss Katie Martucci on her brief tour of New Zealand. Joined by renowned NZ musicians Mark Mazengarb (Guitar) & Jessica Hindin (Violin), this will be a night of world class swing, old time and gyspy jazz music.
"I'm really excited to be able to bring Katie out to New Zealand - I first saw her perform at a festival in the USA and was blown away by her voice and guitar playing!" says Mark Mazengarb, who is organising the tour.
If you like Norah Jones, Django Reinhardt, Swing or Old Time music - you'll love this show!
Hailing from the rich musical history of the Catskill Mountains in New York State, Katie Martucci grew up singing, playing fiddle and guitar. The daughter of a jazz pianist, she began performing with her father at a young age. By the first grade, she was writing her own songs and playing for tips. Her musical journeys led her to the Ashokan Western and Swing Week Fiddle & Dance Camp, vocal lessons with Laurel Masse of Manhattan Transfer, a brief stint of collegiate acapella at Skidmore College and ultimately, to the New England Conservatory. While at NEC, Katie studied voice, fiddle and songwriting in the Contemporary Improvisation Department, and had the opportunity to study with Dominique Eade, Ran Blake, Hankus Netsky, Carla Kihlstedt, and Eden MacAdam-Somer.
Mark Mazengarb is a kiwi guitarist who recently spent 7 years touring the USA full-time with American guitarist and singer Loren Barrigar. Mark has performed with many other world class musicians, including Tommy Emmanuel and Frank Vignola. (
www.lorenandmark.com
)
Jessica Hindin is one of New Zealand's most sought after violinists for her versatility and virtuosity. Classically trained, she has performed with the Auckland Philharmonia Orchestra but is also renowned for her superb improvisation - reminiscent of the great Stephane Grapelli.
This will be a very special night.
---
Previous Gig 3 May 2019: HOPETOUN BROWN
---
Previous Gig 9 November 2018: VillageMusic Season Finalé
If VillageMusic is one thing, it's eclectic - and for our 2018 season finalé, we're bringing back the jazz! 
For the first time to our stage we have Neon Quaver - David Lines, Richard Adams, Nigel Gavin and Richard Ghent who are now developing the unique quaver sound, of electro acoustic instrumentation with no rhythm section, in preparation for recording in early 2019.  Their repertoire ranges from original instrumental compositions that are melodic and rhythmical, in the flavour of Lyle Mays and Keith Jarrett with a number of covers from Rickie Lee Jones, Split Enz, Sting etc; that are particularly suited to the instrumentation and vocal range the quavers explore.
And to make the evening even more enjoyable, we are real pleased to bring both the Gitbox Rebellion back for another gorgeous turn on the turkish rugs and the extremely talented Caitlin Smith, who has also graced the VillageMusic stage on more than a coupe of occasions - It's like having family comin' along! 
This will be a very fine listening treat of a Friday night and a perfect way to end the week - See you there!
---
Previous Gig 17 August 2018: Rikki Morris with special guests
This will be a cracker. 
Rikki Morris has a New Zealand musical pedigree as long as your arm, not just as a fine songwriter, studio producer and performer, but also as a great live sound engineer.

It's not often we get to enjoy a full performance of Rikki's work and Village Music is especially proud to host Rikki and his band for one night only.

Named after a lyric in one of his brother Ian's original songs, Rikki will be joined by his band 'The Endless No'.
Chet O'Connell - guitar, Mark Hughes - bass, Mark Steven - keys, Josh Sorenson - Drums.

Rikki has promised to add a couple (or more) 'special guests' including his talented daughter Gala Morris who will be opening the show, and will be performing his #1 hit 
'Nobody Else', 'Heartbroke' which won the APRA Silver Scroll in 1991 as well as songs from his album 'Everest' and also a handful of brand new songs never played 
in public before!

'Time to put the band back together, hit the stage and share a lifetime of songs amongst friends in an intimate setting'. 

This will be a night to remember for sure. Definitely not to be missed. See you on the night.
---
Previous Gig 6 July 2018: Nigel Gavin and the amazing GITBOX REBELLION, along with Donna Dean and our special guest John Egenes
It's Soirée time again!
And what a fine line-up we have for this concert - Nigel Gavin and the amazing GITBOX REBELLION, along with Donna Dean and our special guest John Egenes.
This will be a great 'listening concert' for sure! 
---
Previous Gig 9 Mar 2018: Mark Mazengarb, Joe K. Walsh & Andrew VanNorstrand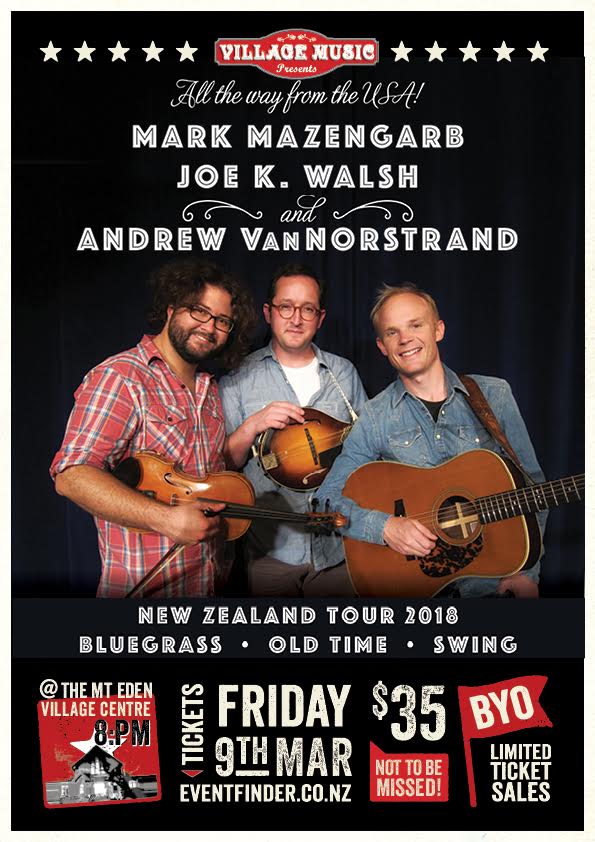 New year's greetings to all you Village Music supporters and fans.
This year will mark our 8th year of bringing live music to the old Mt Eden Village Hall. (aka The Mt Eden Village Centre).
And for this Soirée season, we currently have six 
Friday
 concerts booked or pencilled-in for our mutual listening pleasure, from March to October. We may even do seven nights if all the stars align. :-)
To kick off this year's season we have an extra special treat with the return of Mark Mazengarb to the Village Music stage, along with Joe K. Walsh & Andrew VanNorstrand, directly from the USA.
To say that Mark is a virtuoso guitar player is putting it somewhat mildly. If you were fortunate to be able to attend our previous show with Mark & Loren Barrigar back in 2013, or if you've heard Mark on RNZ, you will know just what I mean.
So when Mark brings a fiddle player and a mandolin player over from the States to join him in concert - you just know that we are all in for a listening treat.
As curator of these concerts, I can honestly recommend this as a great way to spend a 
Friday
 night - bluegrass and western swing are musical genres close to my heart and these guys are right off the top shelf.
As previous Village Music goers, you know just what a great night our soirées always are, so as we always say - Bring your ears, bring friends, bring family, BYO, grab a table and settle in for a great 
Friday
 night of conviviality and live music.
---
Previous Gig 10 Nov 2017: The Andrew London Trio
Previous Gig 29 Sept 2017: Louis Jarlov & Julio/The Remarkables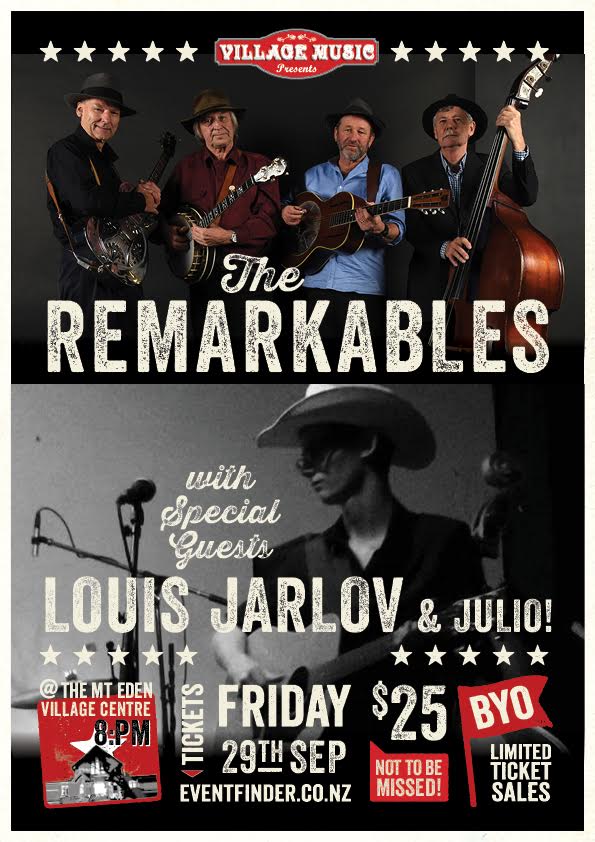 Previous Gig 25 Aug 2017: Sarah Spicer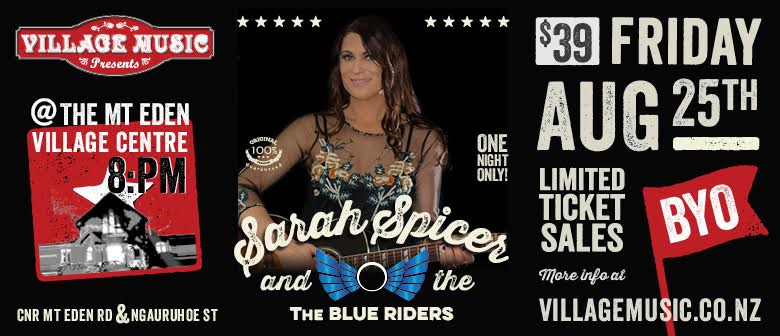 SARAH SPICER and The BLUE RIDERS is a collective featuring NZ X Factor star performer singer/songwriter Sarah Spicer with The Blue Riders: Liam Ryan (keyboards), Buck Croyden (lap-steel and guitars), Wayne Melville (bass) and Jeff Baker (drums and percussion).
Sarah spent 10 years playing in the USA alongside the cream of American blues artists in the San Fransisco/Bay area including John Lee Hooker with whom she recorded. She has two albums of original songs and is currently collaborating on a third album with The Blue Riders in Liam Ryan's Torch Music studio.
 Sarah delivers a deeply moving performance. Her powerful voice and soulful songs explore the road back from stardom and the inner journey to the heart.
 We experienced atmosphere, real emotion and rare simpatico as Sarah weaved her magic with her seasoned, hand-picked band.
 Check out Mr Johnson, her recently released exquisite tribute to blues legend Robert Johnson:
 https://www.youtube.com/watch?v=ly2MunGtPiQ
---
Previous Gig 11 Aug 2017: Greg Johnson
The first of 2 gigs for August -
It was wonderful to hear this consumate professional play those ever familiar tunes along with some great new stuff all accompanied by an equally professional band. That was a great night!
---
Previous Gig 7 July 2017: Donna Dean and Brent Parlane
Real pleased to welcome Brent Parlane (ex Melbourne and currently on a world tour) to our concert series and to bring Donna Dean (Tui winner) back to our stage. Donna was one of our first concert performers for VillageMusic and what a great night that was. Following that performance, Donna has won a Tui, been the subject of a documentary, played Nashville and released a whole lot of new material. Brent Parlane is one of our great musical exports. Many of us will recall his famous days in the New Zealand country music scene. Brent plays regularly around Australia and has maintained a steady output of original music to a loyal fan base. Donna and Brent have performed together in Melbourne and for this show will be joined with a couple of guest musicians for backing on bass and guitars.
This will be a very special evening. As always, bring friends, bring family, bring your ears and BYO.
---
Previous Gig 7 Apr 2017: Wayne Gillespie
Previous Gig 17 Feb 2017: The Company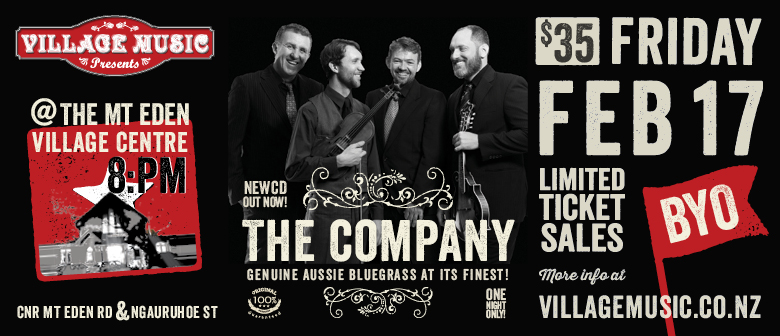 ---
Previous Gig Sep 2016: The Wonderfish Collection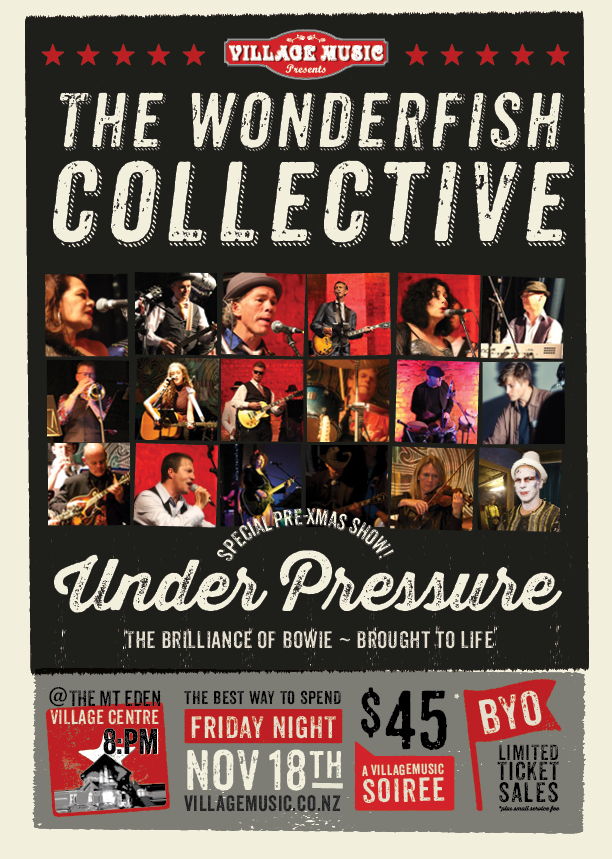 The Wonderfish Collective have a great line-up of real talent on board. They're great to listen to and they're great fun with it. 
That's what Village Music is all about - Great live music, plenty of conviviality and an opportunity to really relax and have a good 'listen', up close with the musicians who are making the music.
This was a special pre-Christmas concert event for Village Music, following a couple of sold out nights on the North Shore.
In keeping with the ethos of these guys, they were once again raising funds for a good cause - this time, on North Head, where there is a need for rescue equipment.
---
Previous Gig Sep 2016: The Narcs
And now for something completely different… In keeping with all that is eclectic, VillageMusic presents the NARCS - A Village Gig.
From the golden age of the 80's these guys have never let it slip. Rikki Morris joins us on the Village Music stage for the first time (having worked the levers for a few of our past soirées, it's great to see him in the line-up for this one) and none other than Pete Warren is sitting in the middle seat for this session - now we really are cooking. Doesn't matter how cold this winter gets - the Narcs know how to turn up the heat… ;-)
This was a great night - there was even be dancing - of course!
---
Previous Gig July 2016: Lou'ana Whitney
In keeping with our Village Music passion for stunning female vocalists, we are delighted to bring Lou'ana Whitney and her band to the The Mt Eden Village Centre.
Lou'ana has been steadily forging a reputation as a great talent for the past few years in various soul/funk/jazz bands and musical collectives around Auckland.
Lou'ana brings a vocal style and a gorgeous delivery that oozes with great feel and character, add to that the musical skills of Dillon Riesterer, Cam Sangster, et al and this promises to be a really delightful evening.
Lou'ana and the band are already rehearsing for it!
Can't think of a better venue than the old hall for these guys - and a Village Music Soiré is the perfect way to enjoy it.
Expecting numbers to be quite high, so get tickets sooner rather than later.
---
Previous Gig June 2016: Derek Lind
Our 2nd Soirée for our Winter Series featured the very accomplished performer and songwriter DEREK LIND, accompanied by:
APRA Silver Scroll winner Guy Wishart (guitar and banjo),
Alan Brown (Hammond A100),
Andrew Horst (Bass),
Kevin Adair (Drums) and
Glenn Ross Campbell (Weissenborn Lap-slide).
Most recently heard on Radio New Zealand a few weeks ago, Lind has played at major arts and music festivals both overseas and in NZ. He has supported international acts such as Sam Philips, Michelle Shocked, and the Hot House Flowers.
His music is in the tradition of the singer-songwriter, drawing its influences from blues, country and rock music. Influences include Dylan, Neil Young, T-Bone Burnette, John Prine, Springsteen, Elvis Costello, Richard Thompson, Peter Case, John Hiatt & Van Morrison.
This was be a concert that will linger in the memories - there aren't too many opportunities to have a really good listen to these guys live - and we're thankful to have welcomed them to our family.